States seek currencies made of silver and gold
By Blake Ellis @CNNMoney February 3, 2012: 10:53 AM ET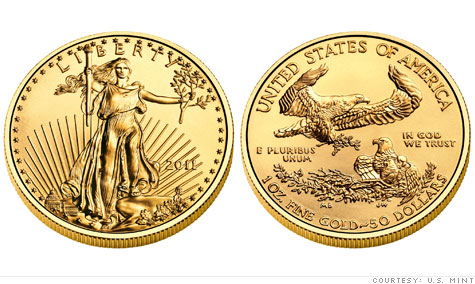 Worried that the Federal Reserve and the U.S. dollar are on the brink of collapse, more than a dozen states have proposed using their own alternative currencies of silver and gold.
NEW YORK (CNNMoney) — A growing number of states are seeking shiny new currencies made of silver and gold.
Worried that the Federal Reserve and the U.S. dollar are on the brink of collapse, lawmakers from 13 states, including Minnesota, Tennessee, Iowa, South Carolina and Georgia, are seeking approval from their state governments to either issue their own alternative currency or explore it as an option. Just three years ago, only three states had similar proposals in place.
"In the event of hyperinflation, depression, or other economic calamity related to the breakdown of the Federal Reserve System … the State's governmental finances and private economy will be thrown into chaos," said North Carolina Republican Representative Glen Bradley in a currency bill he introduced last year.
Unlike individual communities, which are allowed to create their own currency — as long as it is easily distinguishable from U.S. dollars — the Constitution bans states from printing their own paper money or issuing their own currency. But it allows the states to make "gold and silver Coin a Tender in Payment of Debts."
To the state legislators who are proposing state-issued currencies, that means gold and silver are fair game, said Edwin Vieira, an alternative currency proponent and attorney specializing in Constitutional law. And since gold has grown exponentially more valuable, while the U.S. dollar continues to lose ground, the notion has become increasingly appealing to state lawmakers, he said.
The state gold rush: Utah became the first state to introduce its own alternative currency when Governor Gary Herbert signed a bill into law last March that recognized gold and silver coins issued by the U.S. Mint as an acceptable form of payment. Under the law, the coins — which include American Gold and Silver Eagles — are treated the same as U.S. dollars for tax purposes, eliminating capital gains taxes.
Since the face value of some U.S.-minted gold and silver coins — like the one-ounce, $50 American Gold Eagle coin — is so much less than the metal value (one ounce of gold is now worth more than $1,700), the new law allows the coins to be exchanged at their market value, based on weight and fineness.
"A Utah citizen, for example, could contract with another to sell his car for 10 one-ounce gold coins (approximately $17,000), or an independent contractor could arrange to be compensated in gold coins," said Rich Danker, a project director at the American Principles Project, a conservative public policy group in Washington, D.C.
South Carolina Republican Representative Mike Pitts proposed a currency system that would allow people to use any kind of silver or gold coin — whether it's a Philippine Peso or a South African Krugerrand — based on weight and fineness. Pitts said in the bill, which currently has 12 co-sponsors, that the state is facing "an economic crisis of severe magnitude."
Republican representatives from Washington State followed suit in January, introducing a bill that would also allow any gold and silver coins to be considered legal tender based on metal values. Minnesota, Iowa, Georgia, Idaho and Indiana are also considering similar proposals.
Many of the bills would make it possible for residents to exchange the physical coins for goods and services, so you could use coins to buy anything from groceries to a car as long as the store chooses to accept them.
However, most people aren't going to walk around with such valuable coins in their pockets, said Vieira. Plus, calculating the value of the coins — especially if they come from different parts of the globe and are of different sizes and shapes — will get tricky.
Click here to finish reading this article on its originating site.