Unnumbered American Identification
Description
Have you ever walked into the doctors office or a bank and had them demand a social security number or even the actual card? Yeah we have to... thats why we started to carry the Unnumbered American Identification card. When asked for the Social Security Card or our Social Security Number we just simply present this ID and ask them to make a copy to keep on file as well to avoid being asked for it in the future.
The back of the card looks as follows: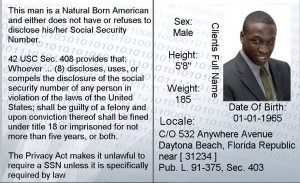 The text on the left hand side reads:
"This person is a Natural Born American and either does not have or refuses to disclose his/her Social Security Number.
42 USC Sec. 408 provides that: Whoever ... (8) discloses, uses, or compels the disclosure of the social security number of any person in violation of the laws of the United States; shall be guilty of a felony and upon conviction thereof shall be fined under title 18 or imprisoned for not more than five years, or both.
The Privacy Act makes it unlawful to require a SSN unless it is specifically required by law."
No more offers for this product!
General Inquiries
There are no inquiries yet.
Ask a Question